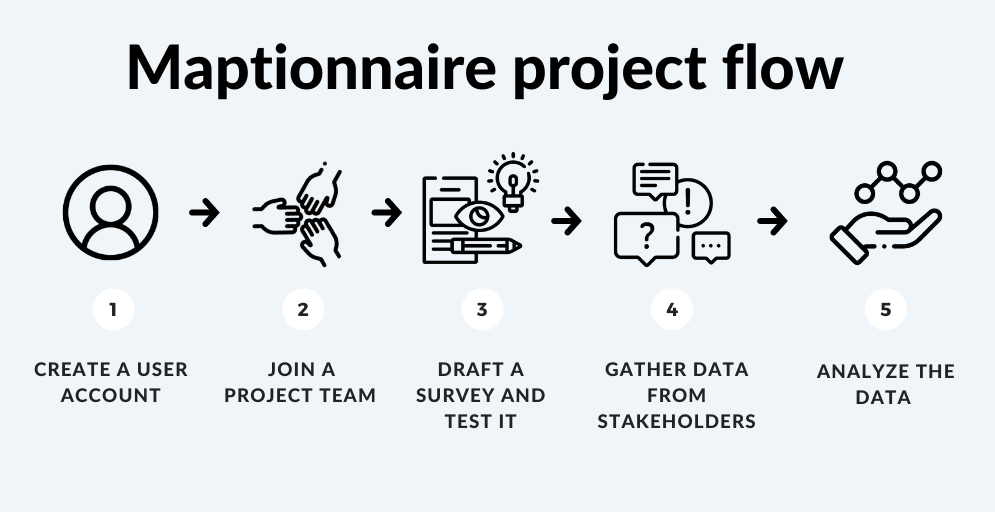 After your organization has purchased a Maptionnaire subscription, each team member who is looking to use Maptionnaire should create a personal user account. We do not limit user accounts per subscription or charge extra for them – so every person working with Maptionnaire (whether short or long term) should create their own user account.
How to create a user account (for organizations)
Go to app.maptionnaire.com and click Register from the drop-down menu at the upper right corner.

Enter the email address and password you want to use to register and click Register with email. Please note that you should always use your organization email to register.

The Facebook and Google registration options are only available for the respondents!

You will be sent a verification email, please click the link in it! After that, your user account is ready and you can log on to Maptionnaire. Ask a member of your team or a Maptionnaire support team member to add you to your project team.
How to manage your account settings
Log in to Maptionnaire. Go to Profile from the drop-down menu in the upper right corner.

You are now viewing your profile. You can navigate between different user account sections by clicking the tabs on the left. In Profile, you can change your Username, which was automatically generated when you registered. It's the name that shows publicly in Maptionnaire for other members of your team. Changing your username will not affect your login details.

Go to the Settings tab to access your account settings, such as the default language that Maptionnaire will be used in and to change your password. You can also set up two-factor authentication and deactivate your account.
You can also view this information as a video:
Next steps
In order to use Maptionnaire, you need to be part of a project team. To learn more about teams and how to be added to one, see Join and manage your project teams.