What can you use the webpage builder for?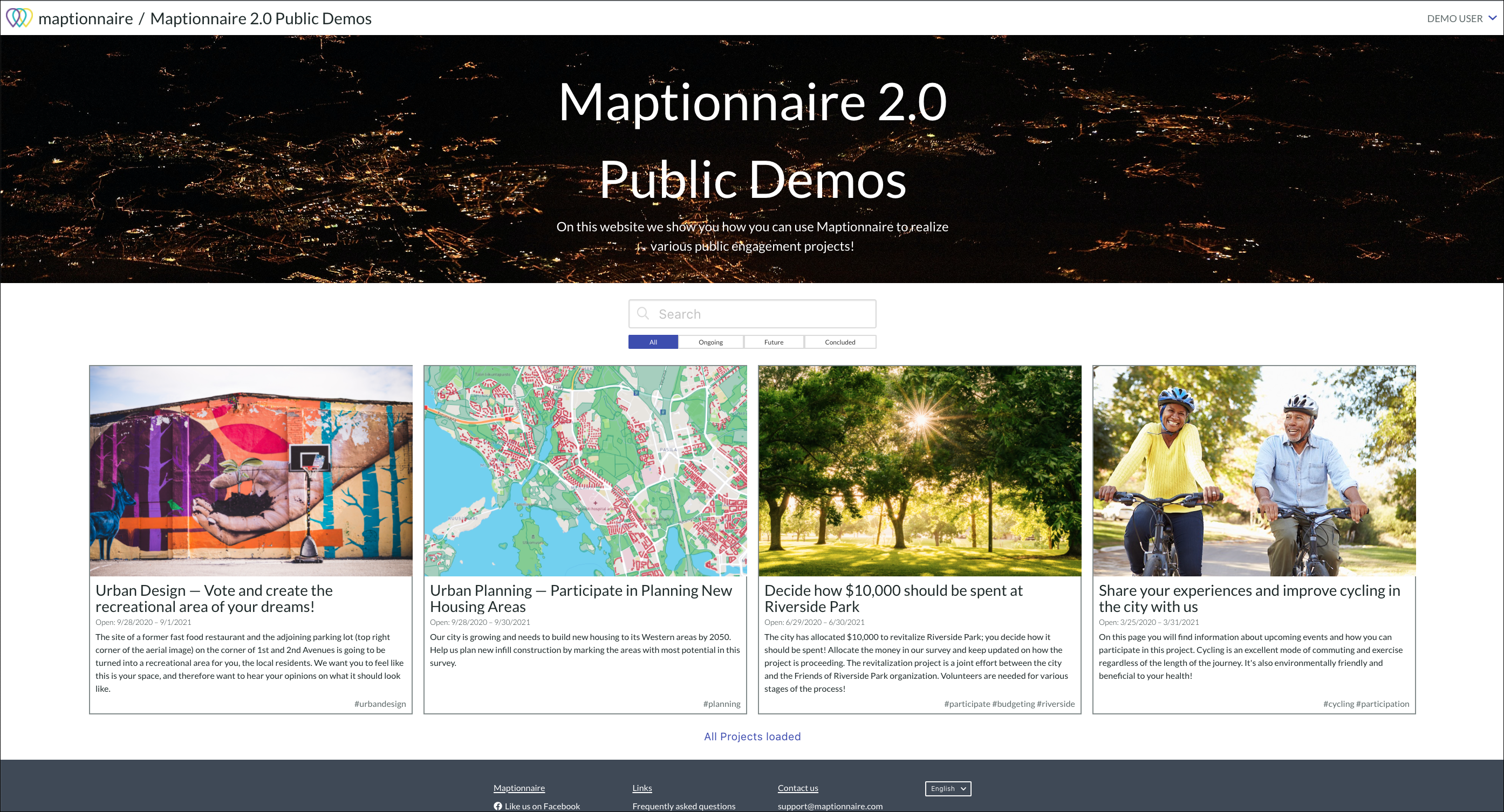 The central idea with the Webpage builder is that it allows you to create a 'one-stop' online location where the public can learn about and participate in different projects. It can be just a single page for a single project, or a complex website structure with many sub-categories.
In practice, you create pages and collect them under a front page. The Webpage builder module comes with an unlimited number of project pages, so feel free to create as many pages as your project requires! Take a look at what pages can look like by browsing the demo website found in this link.
The webpage builder allows you to:
Tell stakeholders more about your project

Inform participants about events and deadlines

Include links to your questionnaire

Get comments from the public

Allow people to share the project on social media
How to create a new page:
Log in to Maptionnaire, choose your project team and click Pages to access the webpage builder dashboard. Pages are categorized according to their publication status (Drafts, Published, Archived). Existing pages are shown as 'cards' which include their public and internal titles and a short description. You can access different actions from the drop-down menu that opens when you click the three dots in the upper right corner of the card.

To start a new post, simply click New page.

Below is a picture of the editor view. On the left side is a pull-out menu for the settings, and on the right a pull-out menu for the element library. In the middle is the draft of your page; it is composed of elements that you choose from the element library.

To draft your page, choose the content elements from the element library on the right.

You can change the order of the elements by dragging and dropping, and also delete and copy them by clicking the three dots on each element. To edit a specific element, click on the element in the draft and an edit window opens on the right. For each setting, you can get additional instructions by clicking the ? symbol.

The settings menu is on the left, and includes for example the publication visibility times, social media sharing buttons, and tags. If you are also using a card in your project, you can set it up here.

Finally, you can preview your project page and publish it from the top right corner menu.
Next steps
After you have created webpages, learn how you can collect them under a single front page.