You can access the element library from the pull-out menu on the right side of the screen or by clicking the Add element button in the middle of the page. The left pull-out menu is for page settings.
To add elements to your draft, simply click on them in the element library. In this section, you will be given an overview of each element. During the drafting process, you can always find more detailed instructions on each setting by clicking the ? symbols. You can change the order of the elements that you have chosen by dragging and dropping.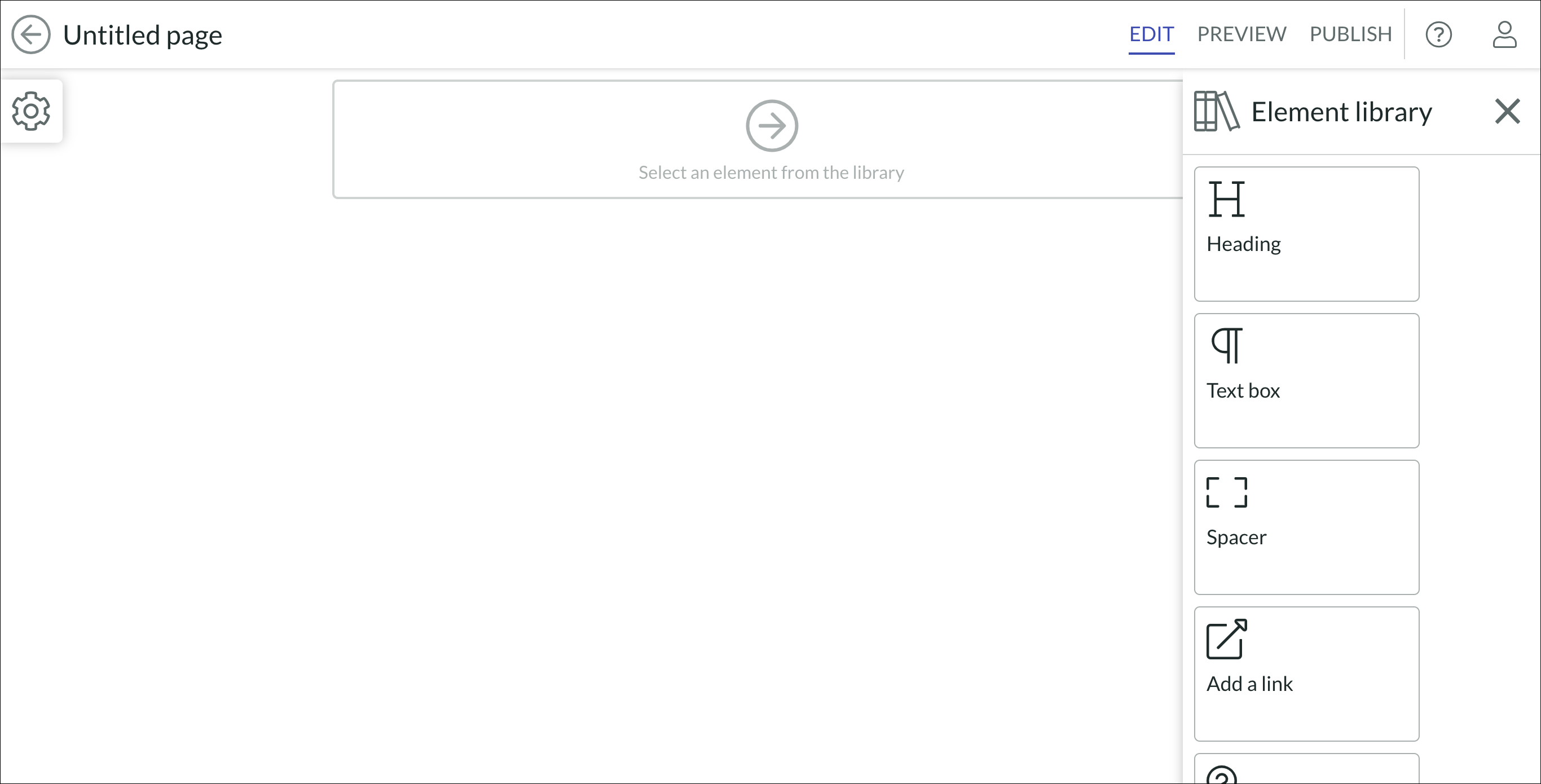 Use this element for subheadings that divide different sections of the page. Please note that the title of your page will be determined by the title you give for the page in the card settings. You therefore do not need to use this element to create a title for your page.
A field where you can write the text part of your page. You can change the size of the text and add markdown language to it, which enables you for example to embed links to the text and to highlight parts of it.
The spacer allows you to add a space or a line between different elements. This can be useful if you want to create a clearer division between two sections of the same page.
Add a link and Questionnaire link
Use the former to add any link to your page and the latter to add a link to your Maptionnaire questionnaire. The title and the text shown on the Questionnaire link are taken from the questionnaire's card (which can be edited in the Card tab of Questionnaire settings).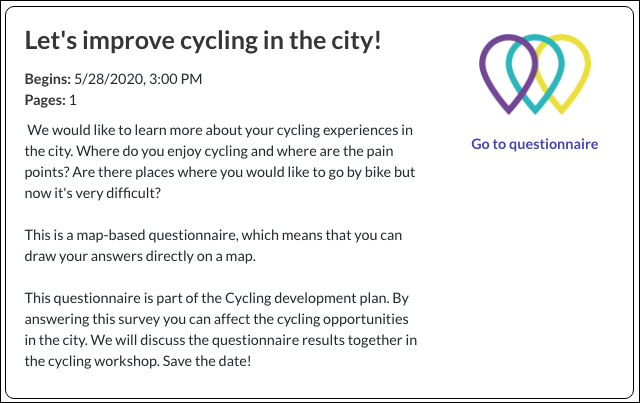 This element allows you to list different events and important dates and times (e.g. deadlines) related to your project. You can also write a short description for each event and decide whether to use the event title or the date as the header. Please note that Maptionnaire currently uses the MM/DD/YYYY format for dates. You can also include the time zone, or switch on a setting that adapts the timeline to the time zone of the person who is viewing it.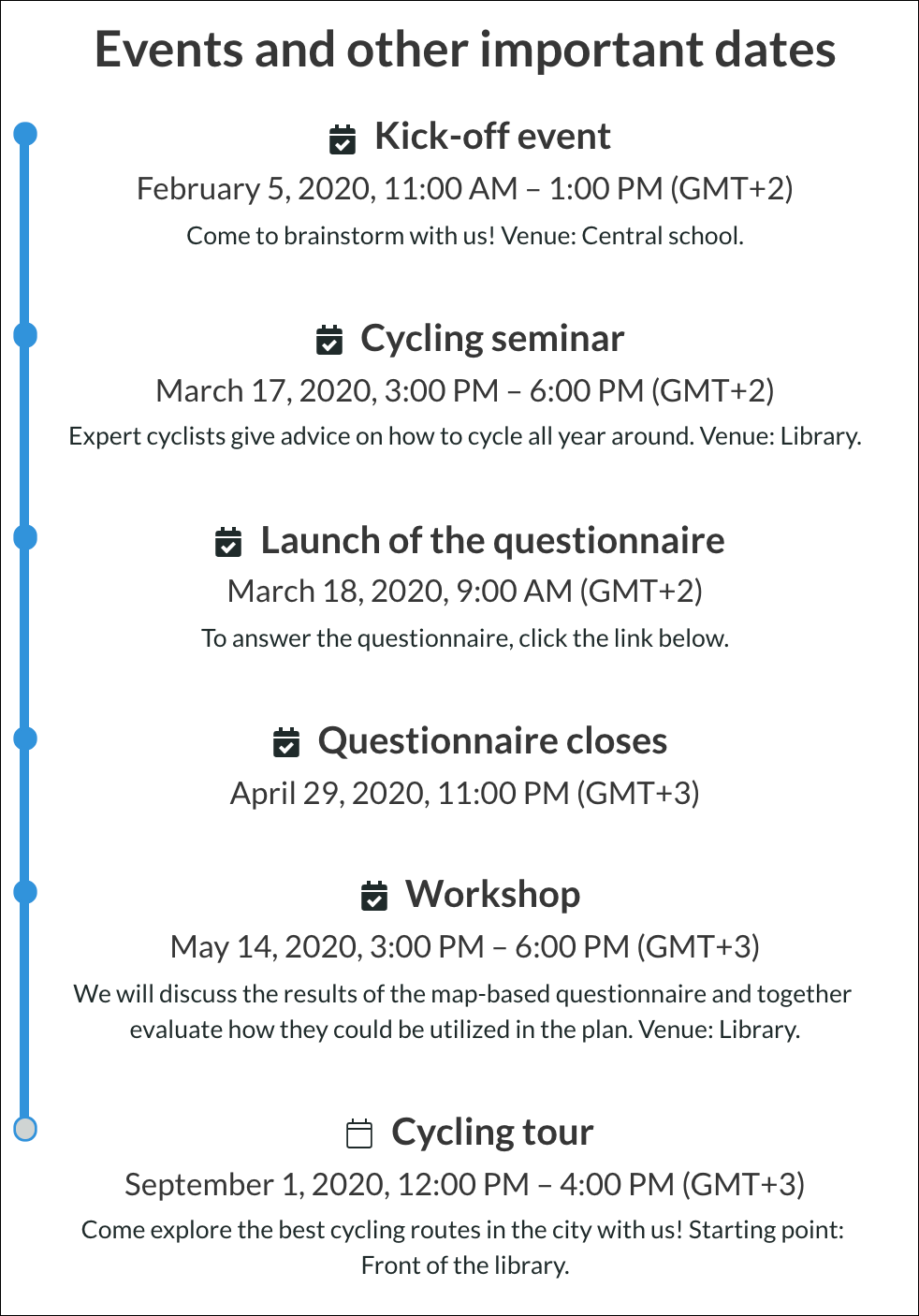 Image and page-wide or hero image
There are two types of images that you can use to add visual content to your page. The image is the same width as the text, whereas the page-wide or hero image is a banner-type image, spreading across the entire width of the page. Remember to first add your images to Materials to be able to use them in the website builder!
You can embed an audio clip to your page. As with images and other resources, the audio clip also needs to first be uploaded to Materials.
You can embed both YouTube and Vimeo videos to your pages.