This article takes you on a short tour of the main sections in Maptionnaire – front page and user and team account management; questionnaire editor; Materials; and the built-in analysis tool and results download. It's intended to help you orient when you first start using the service.
Accessing Maptionnaire, user accounts and teams
Let's begin with the Maptionnaire front page, also called the log-in page (new.maptionnaire.com). This is where you need to go when you want to access Maptionnaire. Here you can create a Maptionnaire user account or log in.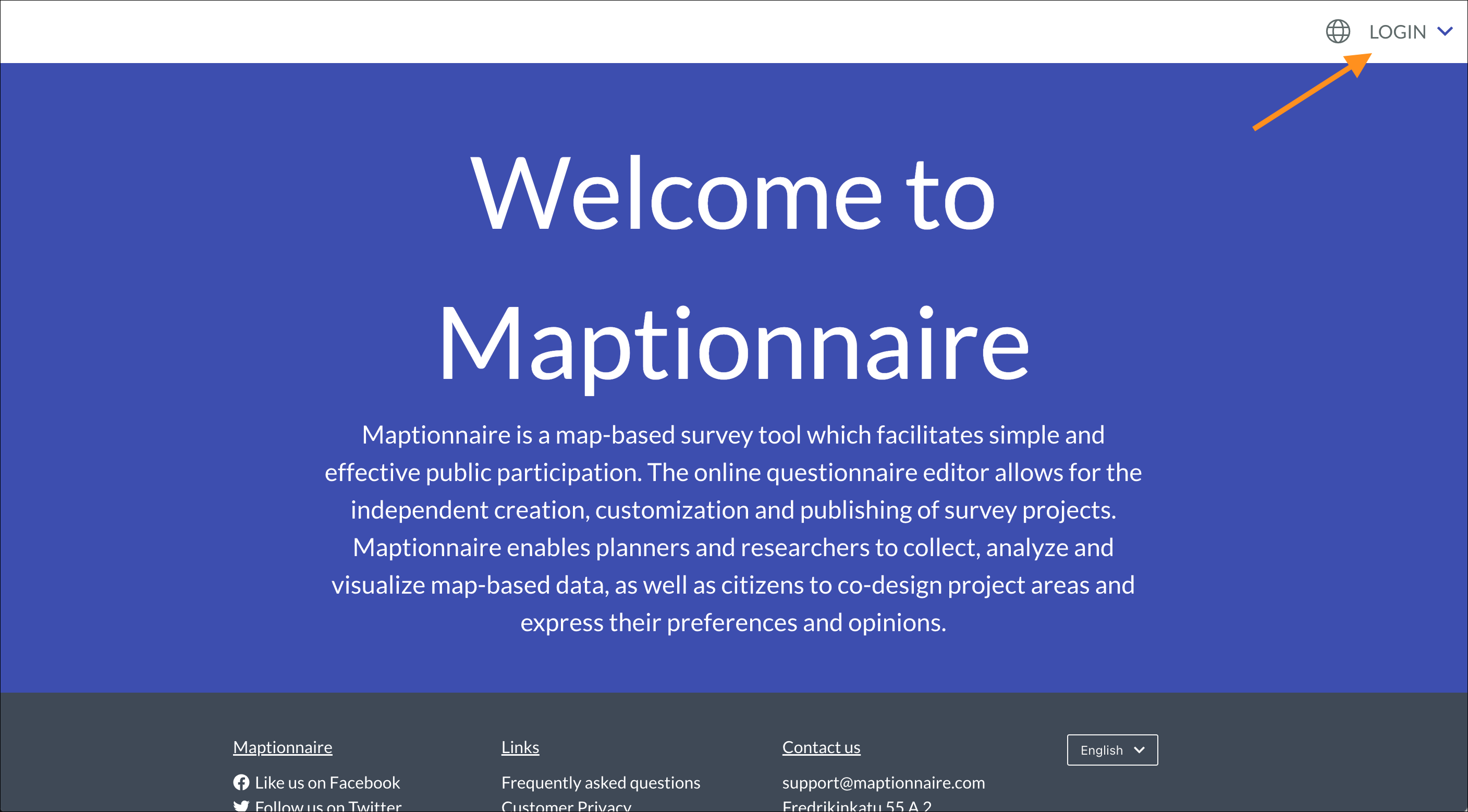 When you're logged in, you can see your user name on the upper right corner of the screen. When you click it, a drop-down menu opens. Click Admin view, and you get to the view shown below. Public site refers to the front page you just logged in at. Profile, Account settings and My responses are where you can edit your user account. Manage teams will take you to view the teams and subgroups you are a member of. If you do not have a team invitation yet, then Manage teams is not yet visible to you (read about invitations by clicking this text).
The question mark symbol is a shortcut to this support guide, so you can always find help easily. The globe symbol next to it allows you to choose whether you want to view the admin side of Maptionnaire in English, Finnish, Dutch, Swedish or German.

Now, let's go to Manage teams. Here, you can view all the teams and subgroups you are in, and view and change their settings by going to Team settings. Whenever our manual refers to team settings, this is the section that we are referring to.

When you click Team settings, a smaller settings window opens up. Settings are divided under different tabs.
Admin: you can change the name and description of your team. Only members of your team can see these.
Front page: If you are using Webpage builder, this allows you to set a specific page as your front page.
Members: Here you can view who is a member of your team, and invite new members. You can also change the role a member has or remove their membership altogether.
Roles: Each team member has to have a role, which determines the access they have in the team and what actions they can do. Here you can browse the different access options for different roles and edit them. With the Teams add-on, you can also create custom roles.
Subgroups: If you have the Teams add-on, you can create subgroups under your Team.
Reports: This is where you can download CSV reports on your team (and possible subgroups). You can audit the actions that team members have undertaken, and download a report of your surveys and their visitors and respondents.
Subscription: View your subscription details.

Questionnaires
After you've created a user account and become a member of a team, you can start creating surveys. First, you need to make sure that you have selected a team. You can do this easily by going to Manage teams and clicking Go next to a team. When you're in a team, its name appears in the upper left corner and the sections next to it, e.g. Questionnaires, becomes active.

Click Questionnaires to get to the questionnaires main view or dashboard. You can start a new survey by clicking the New questionnaire button.
Once you have created a survey or surveys, they will be organized in this section according to their publication status (drafts, published or archived) in order of creation. You can also search based on the survey's internal name and description, and use color codes (e.g. pink in the image below).

You can select a survey by clicking the checkbox next to its Internal name. You can copy, transfer, archive and delete surveys by choosing accordingly from the pull-down menu that opens by clicking Actions.
When you begin a new survey (New questionnaire), you go to the survey editor: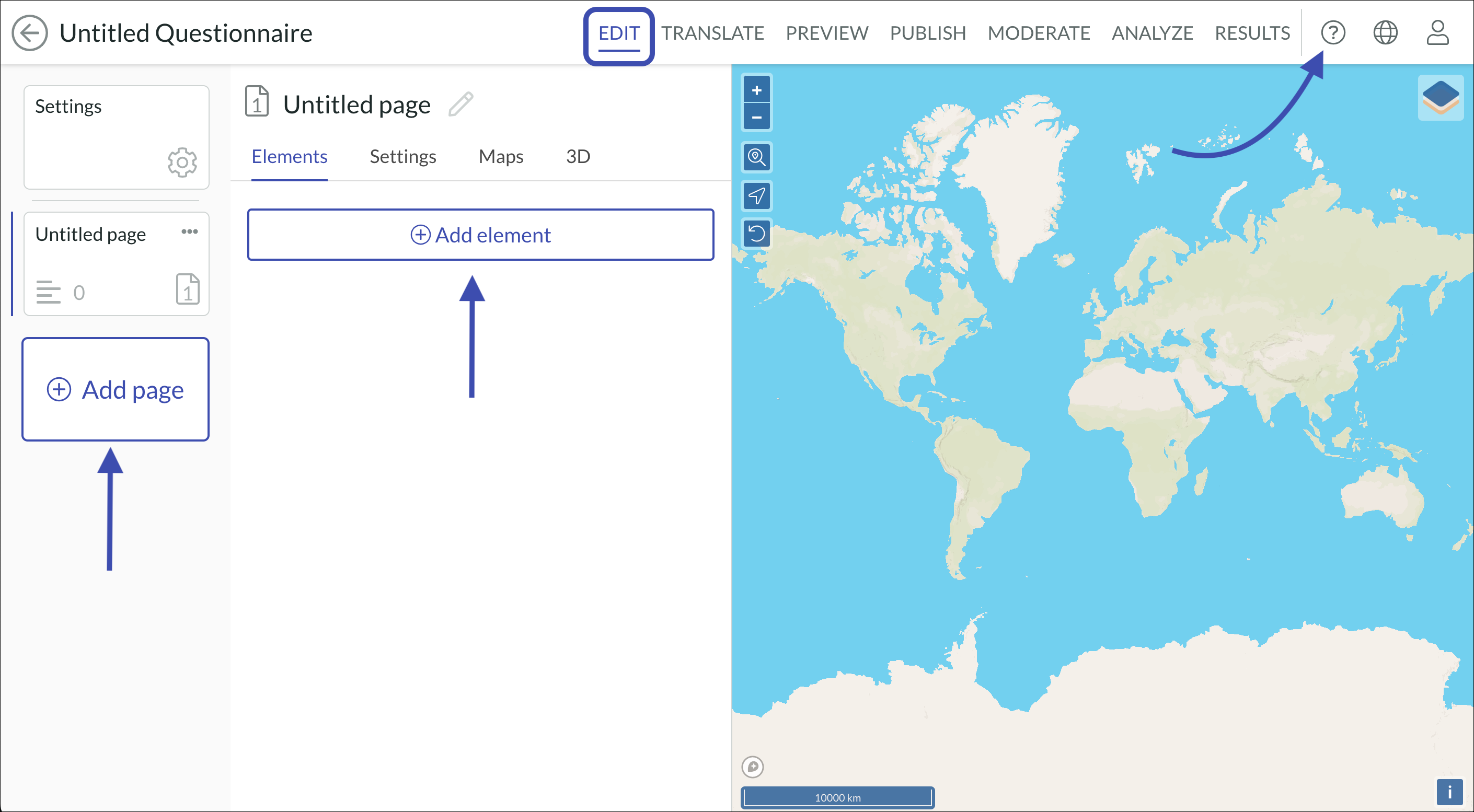 On the left is a listing of all the pages in your survey. You can add as many as you wish by clicking Add page. In the middle is the page draft, where you can add different elements and content by clicking Add elements. Remember, you can always access this guide from the question mark symbol! The editor also includes tooltips for each setting: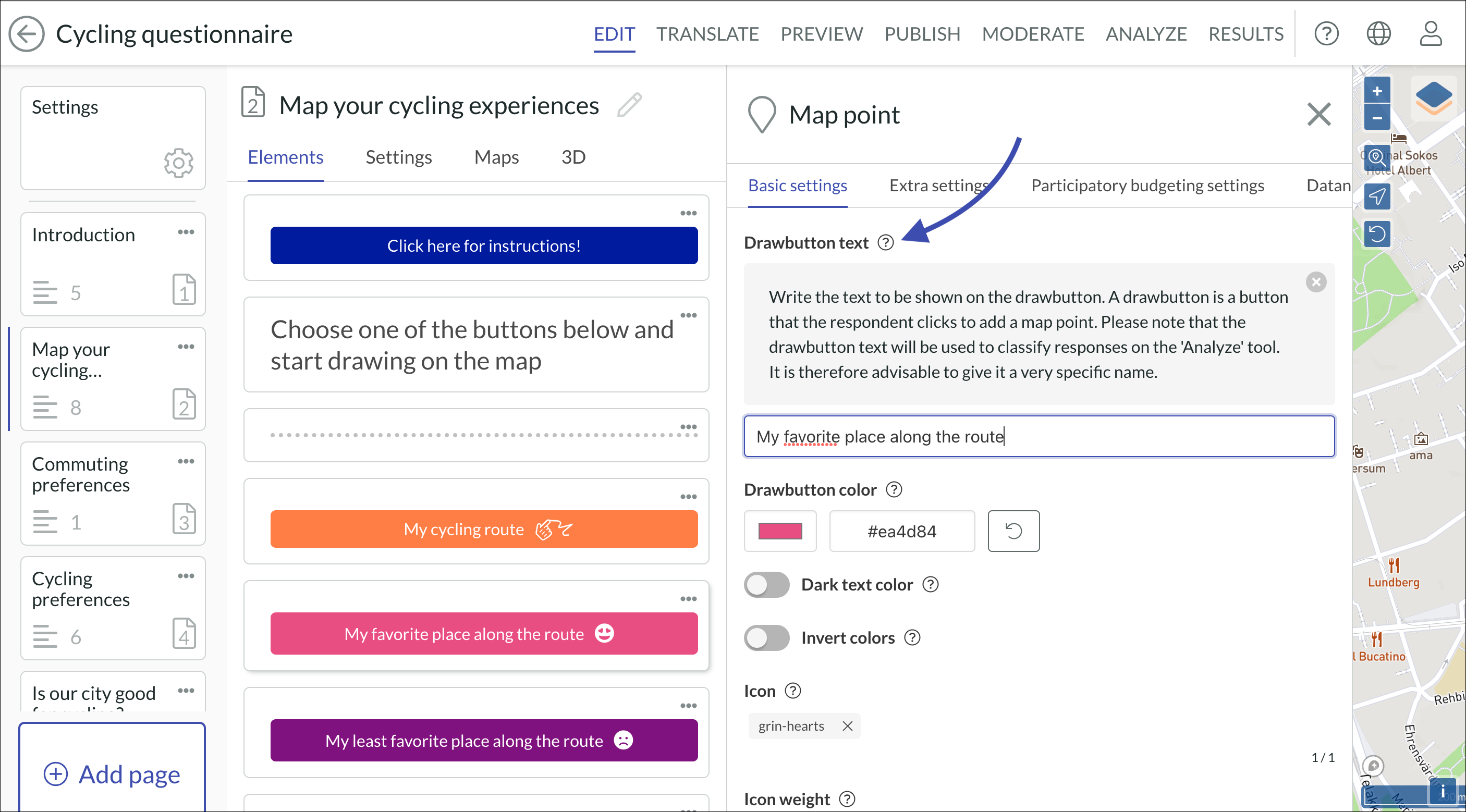 Materials
Next to Questionnaires is a section called Materials. Its purpose is to be a repository for all the materials that you want to use in your surveys, e.g. images, logos and maps.
You can add a new file to the section by clicking one of the dark purple buttons. Draw map allows you to create a simple map layer directly in Maptionnaire.

You can search for materials in this section by type or by using search terms. To archive, copy, transfer or delete a file, tick the checkbox next to the name of the file. Then click Actions and choose accordingly.
Results
When you have collected data with your survey, you can analyze them directly in Maptionnaire or export them.
To use the built-in analysis tool, go to Analyze in either the survey editor or in the questionnaires main view. The tool has two sections: response graphs and map responses. You can read more about how the tool works by clicking this text.

To export your results and hide some respondents (e.g. test data) from view, go to Results. You can export either the full data for all publication versions of the survey, or choose only the responses to one version (e.g. the latest). To hide some respondents, go to Manage respondents.

And that's it, now you know all the main sections of Maptionnaire! Next, why not take a look at the other articles in Get started ?