In this section, we will tell about the new additions to Maptionnaire. Check this space to keep up with what's new in Maptionnaire!
Select map and Pop-up map (11/2023)
We've introduced the
Select map
element, which allows respondents to pick features from a map as answers. To make sure that this element is easy to distinguish from maps with pop-up features, which also record which place the respondent clicked, we've re-named the
Click map
element
Pop-up map
. The difference between select and pop-up maps is that the former does not include pop-ups.
Create a grid map (11/2023)
Vector Map Tiles and GeoTIFFs (10/2023)
In October 2023, we introduced two new map formats that you can use in Maptionnaire: Cloud Optimized GeoTIFFs and Vector Map Tiles.
To use GeoTIFFs in Maptionnaire, please contact support@maptionnaire.com.
For Vector Map Tiles, make sure that they are in the coordinate system EPSG: 3857. You should find the link for using VMT in the program you have used to generate them.
Improvements to the analysis tool and results download (10/2023)
Improved graphs. In the analysis tool, we have improved the editing possibilities of graphs. For more information, please see this article.
Respondent/bounce visitor numbers. You can now also see how many people responded per question, and view and download graphs of how many people responded to your survey. Read more about this here.
'Is not blank' included as a filter option for map responses. E.g. if you asked people to mark a place and elaborate in their own words on its meaning to them, you can filter only those responses with answers to be shown on the map.
Explore is back with improved features. Each feature drawn by respondents is assigned a number (you can turn this off if you want). You can zoom to different areas on the map and focus only on the responses in that area. To learn more about this change, please see this article.
Simplified Excel file. You can now download an Easy version of the results file. We have removed all unnecessary columns from it to make it as simple as can be – this work will also continue in the future. You can read more about the Excel file here.
List layout (8/2023)
In August 2023, we implemented a change to how surveys, materials, pages and projects are presented in Maptionnaire.
Previously, surveys were shown as cards, as in the image below:

In practice this made it quite difficult to navigate between surveys.
This is why from now on, you will see surveys in your team as a list:

We have not removed any functionalities, but just made finding everything a little bit easier. The same change applies to other sections: Materials, Projects (incl. Ideas and Proposals), and Pages (Webpage Builder).
Questionnaires
Questionnaires are now in the order in which they were created, newest first. If you re-publish a survey, it won't 'jump' to the top of the list. You can sort the list by creation date to show oldest surveys first.
The Internal name of the survey can be set in Survey settings > General.
The Questionnaire title is taken from Survey settings > Card.
The Internal description comes from Survey settings > General.
Image is the one you've chosen in Survey settings > Card.
Created is the date when the survey was first created.
Actions:

To go to the editor, click the button with a pencil icon under Edit
To view the analysis tool, click the chart symbol under Analyze
To download results data/hide test responses, click the download symbol under Results
To view the published survey and copy its link, click the button under View
To transfer, copy, archive or delete a survey: tick the checkbox next to the survey's name, and choose the appropriate action by clicking Actions (see image below):

How to categorize and search for surveys

You can search for surveys by their internal name and description. Search by choosing whether you want to search by name or description, and then typing a search term in the box that says 'Search' (see arrow in picture above).
Another way to organize your surveys is by using color codes, e.g. the pink color above. The color can be set in Survey settings > Card.
How to find out how many people visited or responded to your survey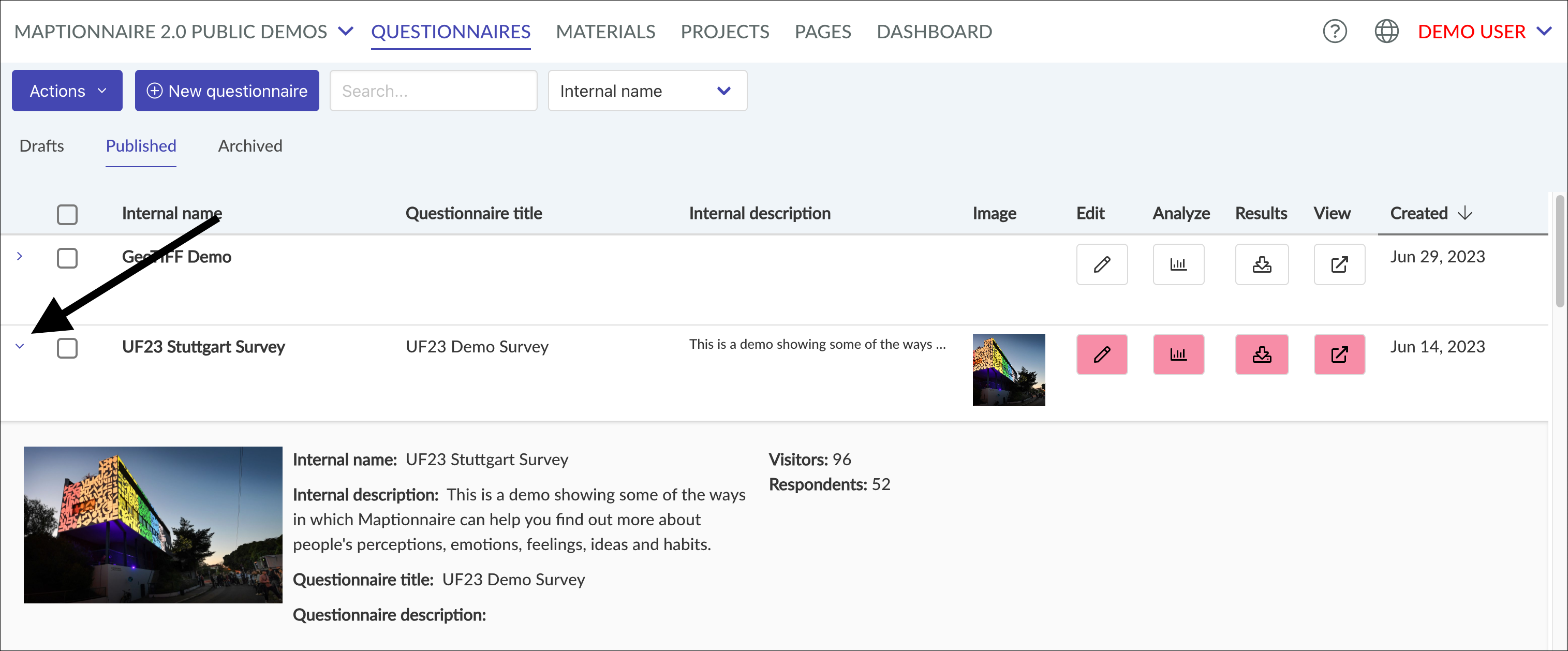 Click the arrow symbol on the left-hand side of the survey's internal name, and you will see its internal and 'official' title and description. You will also be able to see how many people visited your survey (everyone who responded + everyone who just viewed the survey without interacting with the questions), and how many actually left answers. Respondents includes both the submitted and unsubmitted responses.
Materials

Materials follows a similar logic as Questionnaires.
Name = the name of the file, which you can alter in Edit
Type = whether the asset in question is an image, map file, document, or audio clip
Edit (pencil symbol) = go to the editing window
Preview (only for images) = shows you what the image looks like
Created = the time when the survey was first uploaded to Maptionnaire

You can filter materials by type (e.g. image, type of map...) and search for them using search terms.
To copy, transfer, archive or delete a file, tick the checkbox on the left of its name and click the Actions button.
Pages

Internal name and description can be set in Page settings. Page title, description and image come from the Card settings.
To edit, preview, or view a page, click the buttons under Edit, Preview or View.
Tags are the tags you have set in the page settings. You can also search for pages by tag: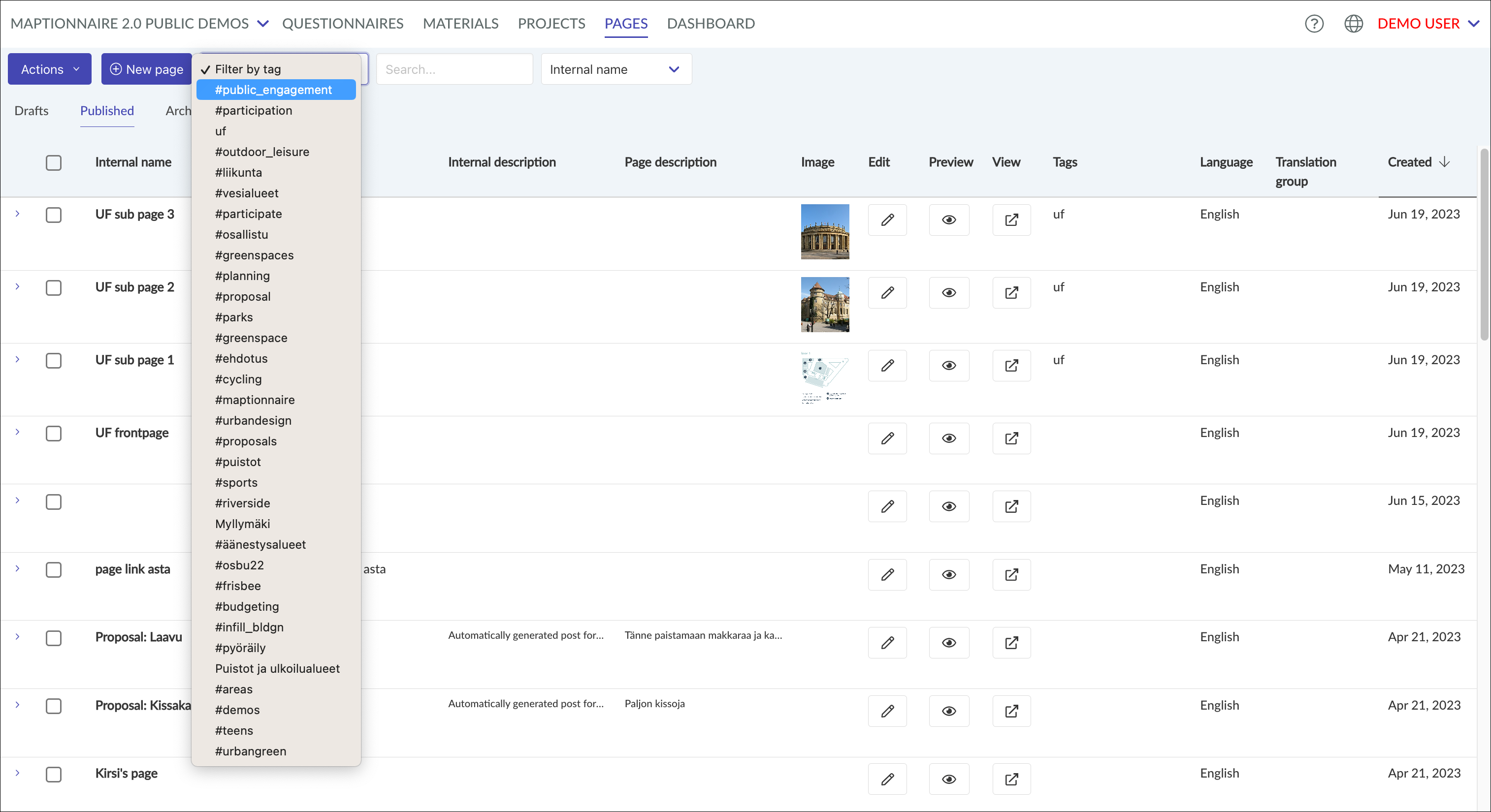 Language is the language of the page that you have set in page settings. Translation group is a code shared by the pages that are different language versions of the same content and have been linked together under Languages.

To Archive, Restore (if archived), Delete, Transfer, Copy or Bulk edit pages, tick the checkboxes next to the pages in question and click the Actions button.
Place-based discussion tool (Discussion element, 5/2023)
You can now add a commenting box to e.g. click map pop-ups. This feature allows citizens to discuss specific places on the map. Read more about this feature here.