In Maptionnaire, there are various ways in which you can ask for publication consent and include your privacy policy.
Make your privacy policy available to respondents
Option 1: Go to the General tab in questionnaire settings. In Privacy policy URL, enter the web address to your organization's privacy policy. Switch on the Ask for publication consent setting as well. Please note that you should also always enter a Privacy policy URL for this setting to work as intended. Once you have done this, the respondents will be asked for their consent and be presented with a link to your privacy policy after they click 'Done' at the end of the survey.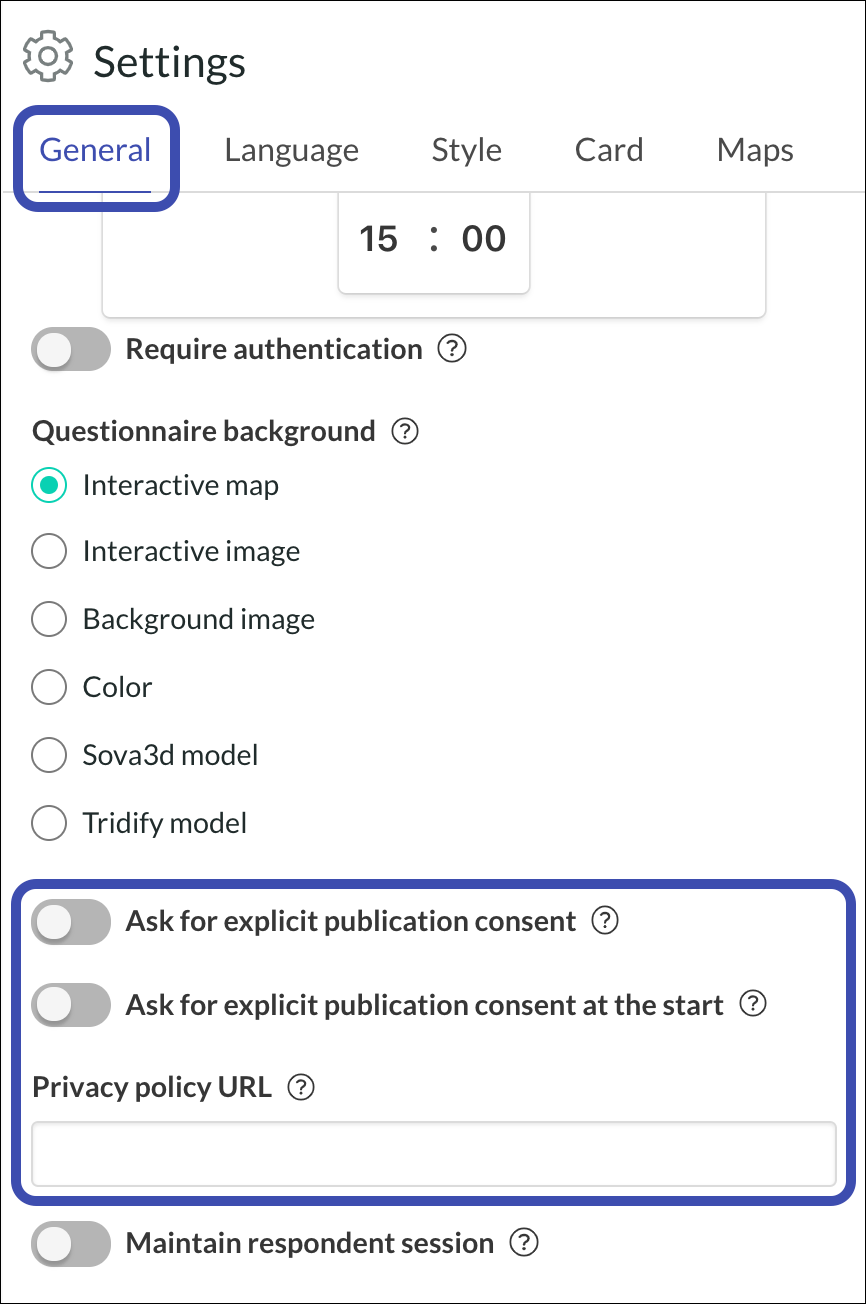 Option 2: Upload your privacy policy in PDF format to the Documents section in Materials. Copy the URL generated for the file (see arrow in image below), and insert it to any place in your questionnaire by using the markdown code [title of link, e.g. privacy policy](URL).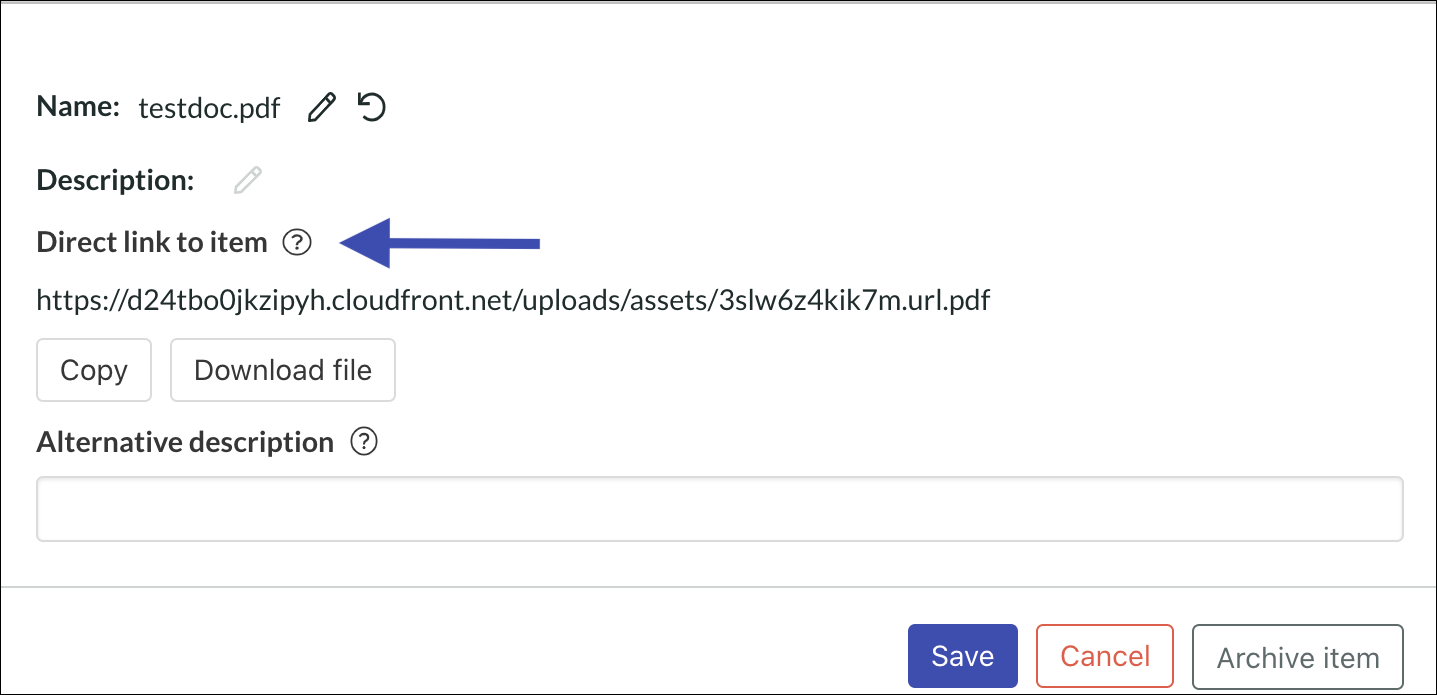 Option 3: Add a pop-up window element to your questionnaire. Copy-paste the content of your privacy policy to the pop-up. Now the respondents can click the pop-up window button to access your privacy policy.
To view Maptionnaire's privacy policies, please see the following links:
Please also see this article on GDPR for further details on how we handle respondents' personal details.
Ask for publication consent
Maptionnaire always records the responses that respondents leave to questionnaires on our platform, regardless of whether they click the Done button at the end or not. It is assumed that by responding to a questionnaire, a respondent is also automatically consenting to the possible publication of their responses.
However, if you want to explicitly ask your respondents to give their consent for publication, this is also possible. There are three ways of asking for publication consent in Maptionnaire:
Option 1: Ask respondents to consent after clicking 'Done'
Switch on Ask for publication consent + add your Privacy policy URL to the field below. Please note that you need to enter also a Privacy policy URL for this setting to work. In this option, respondents need to click the Done button at the end of the questionnaire to be asked for their consent and to view the privacy policy link. Please note that many respondents tend to NOT click 'Done' at the end, for various reasons. Therefore, it may be advisable to remind respondents to click 'Done' to submit their responses on the last page.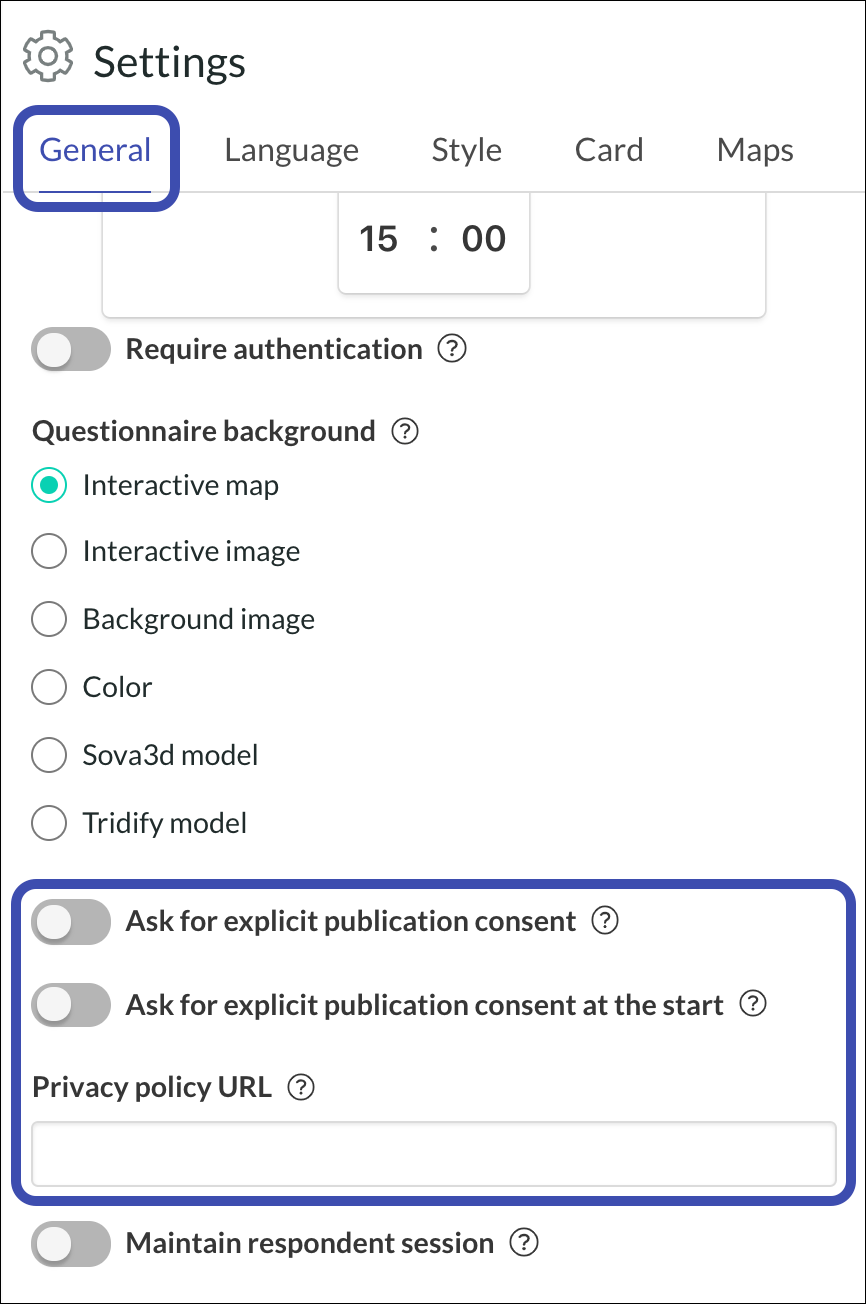 Option 2: Ask for consent when respondents first access the survey
Switch on Ask for publication consent + add your Privacy policy URL to the field below + switch on Ask for publication consent at the start. Again, please note that you need to enter the Privacy policy URL for this setting to work.
Option 3: Add a Single checkbox element to any place in your questionnaire and use it to ask for publication consent. You can also set it as a mandatory question.